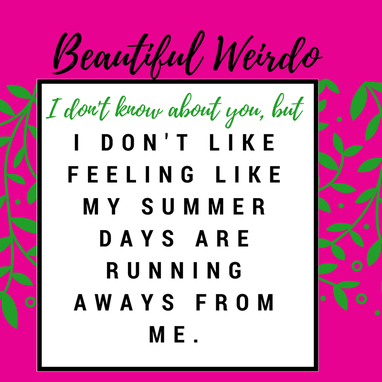 June is here...can you believe it?! Only 15 more days until Summer. This year is going by so fast and I tell you, you don't want to be caught with the "where did my summer go?" look as you scramble to make the best of the last two days of summer. So how do you escape this?
1. Don't wait until summer starts to start planning for the Summer. Start your plan today.
Summer is peeking around the corner like, " Yoo hoo...I see you," and we all know that as soon as summer starts, within a blink of an eye, it's over. So...
2. Create a list of at least 10 things that you want to do/accomplish this summer.
One of the ways that I make the most of my summer is to create a list of of at least 10 things I want to do this summer. The list could include things as simple as go to the beach, go on a winery tour, ride a train to random place, travel to NY, read 10 books, play kick ball, go on a hike or adventure alone (for those who have children...a day alone is liquid gold lol), make a candle, get a new tattoo, vacation get away, etc. I've been making these list for years and I've noticed that I accomplish all or minus two goals on my list. It's something about writing something down and declaring what you'd like to do. It gets your spidy senses heightened and you're more hypersensitive to events and activities around your goals.....and you're more likely to accomplish what you write down.
3.  Pencil in the dates for your adventures on your calendar  
Taking it a step further, after you write your "great 10" summer adventure list put perspective dates on a calendar:). This helps you with being aware of how much time you have and  helps you keep control of your summer. I don't know about you, but I don't like feeling like my summer days are running aways from me.
Now that you've got a plan...there's nothing left but to do it. I'm a firm believer in making the most out of the time we have. Let's Get it. Let me know know what's on your "great 10" summer list and how you'll be making the most out of your summer! We all can learn and  get some ideas for our lists. 
Here's my list....what's yours?