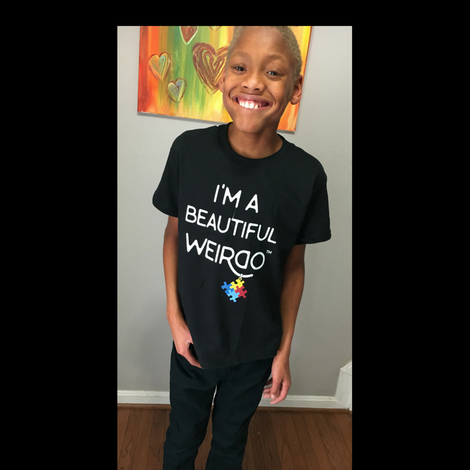 You see this smile? It's a ray of sunshine and its the smile of my 13 year old son, Ed, whom we adopted some years ago (I'll tell you all about that family saga that led to us adopting two children during our 2nd year of marriage another time). 
Now, when we welcomed Ed into our family, he had already been diagnosed with Autism. For those of you unfamiliar with Autism, or autism spectrum disorder here's what it is in a nutshell:
Autism or Autism Spectrum disorder refers to a range of conditions characterized by challenges with social skills, repetitive behaviors, speech and nonverbal communication, as well as by unique strengths and differences.
As a social worker, I had some knowledge of autism, but not enough to prepare me for all the different things that come with  parenting a child with autism. 
 The stares. The questions. The  people who avoid interaction with your child or gawk at him from a distance. The people who act like he has some sort of contagious disease that if their child played with them, then they'd catch it too. The people who look at you, like something must be wrong with you for you to have had a child like that.
I'll never forget the time in children's church, where they were like "Oh he has Autism?  I just thought he was a "bad" kid." Now  normally, I'm pretty cool, but you mess with my husband, my kids, or immediate family ...and YOU WILL SEE ANOTHER SIDE. 
But this is the parenting life and I haven't even included some of the fears I have for Ed, like him being taken advantage of or him being misunderstood or someone hurting him because he hasn't mastered appropriate societal physical boundaries. I often have conversations with my husband, like if something happens to us, what's going to happen to Ed. These are real issues and sometimes you think you're the only person who experiences these multitude  of feelings, but after a recent response from a fb post I know that I'm not.  So many people commented, left messages, about how they have been affected by autism. Now, I knew some of my friends had children with autism, but this went way beyond my imagination.
Though we all have our experiences of being affected by Autism, the are not all the same, but I think I speak for everyone when I say that I wish people would take the time to understand the uniqueness of  children with special needs. Practice and give looks of compassion for all of humanity.
At the end of the day, I want people to know that any person who has autism or seems different from the "norm," is a human being who deserves to be treated with dignity and respect.....not just a "bad child." How do we do this? By sharing our experiences with autism to bring about awareness.
April is Autism Awareness month!
And I'm here to celebrate my 13 year old son, ED, as well as all my friends and family affected by Autism. Though every day isn't a walk in the park, I celebrate his uniqueness and the joy he brings to our family. He is beautiful & unique, and a beautiful weirdo.
I'd like for others to honor those affected with autism as the beautifully unique people that they are and so I've partnered with some organizations in facilitating a 5k walk for autism and raising money for F.A.C.E (Facing Autism with Children Everywhere). You can also DONATE too. Join us, spread the word, and lend your support! We also have Special EDition Beautiful Weirdo for Autism Shirts available for men, women, & youth. A portion of the special edition shirts for autism will benefit F.A.C.E too!