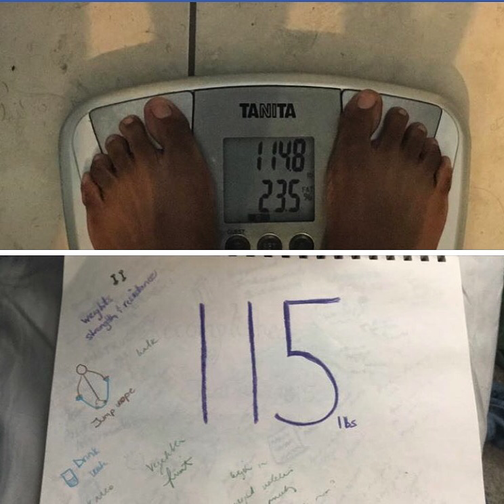 Let me tell you something...
I've been working on the same goal for 2 years.
Since having, my daughter, Royal aka Beanie, 2 years ago, I've been working towards returning to my pre-baby weight of 115 lbs. 
Below the picture of my weight is a handwritten picture of 115 lbs that I drew 2 years ago (I draw my goals :) and the moment is here. Wee Hee!
But this moment didn't come without scrutiny. People would say and and still say all the time, " You look good, you don't need to lose anymore weight"... and that's cool... but when I have a goal in mind ... my goal isn't for people... it is for me and I seek to accomplish it. For Me.
Were there times when I wanted to quit, take a break... yup... did I... yup... but it's a journey and it's about the work you put in! I share this to let you know that anything you put your mind to is possible! As long as you have breath in your body, there's still time:) and if you need one to one individual weight loss therapy your girl is here for you :) wee hee! Learn more about  Beautiful Weirdo Fitness & Weight-loss Counseling
**Beautiful Weirdo nugget: As long as you have breath in your body, you have an opportunity to make things happen.
Be Beautiful. Be Weird. Be You. ALWAYS.
TC